I was born and raised in New Orleans. My earliest memories embrace a proclivity for kindness, generosity, love and compassion, this remains the cornerstones of my nature. I believe this influences the music that I've been so very blessed to create.
Believing we enter this life in our natural state of goodness. My intention with channeling this music, is reaching those special places inside our being, that reawakens, nurtures and cultivates, that natural state of individual and collective goodness. 
When I read any descriptive writing resembling the previous paragraph, I would assume, new age flowing meditation music. Though my music expresses a wide range of emotions and styles, new age is not among them.
My life is a culmination of gratitude, grace and mercy. In many respects, I live a very simple life. I'm an introvert, yet thus far, my greatest joy, (other than witnessing, kindness and consideration) is publicly performing as often as possible. I love what I do, and remain grateful for everyone that supports the arts, and the betterment of humanity. 
Solo Tropical Acoustic Guitar Entertainment is an amalgam of, The Excitement of Flamenco to the Joy of Tropical Brazilian, to Reggae to Melodic Jazz, to Bluegrass to Louisiana Swamp Blues, to African infused to Cuban cues across the Mediterranean, Classical to Spain, through the Islands, and back to America again. Multicultural in essence and form, created with the intention of inspiring good will and calming the inner storms. 
I am grateful to have such a wide genre bending repertoire. It allows me to never tire and encourages audiences to enjoy evolving music.
Many performances, I've seen children in audiences start applauding before everyone joins in, knowing the wide appeal of this music has no age, nor ethnic barriers, helps to validate the incredibly difficult choices I've made throughout my journey.
Currently, my live performances are solo. Yet, much of the music is bigger than one person can relay, so I've chosen to use the technology of what is known as a looper. I implement it as a live recording device. Admittedly partially selfish, as I prefer the challenge of recording live in front of you, over and above the safety of performing over pre-recorded music.
 To clarify, when I say big, I mean compositionally, I do not mean loud. I am a huge fan of perfect volume. In Winery, Restaurant and Private settings, everyone should be able to enjoy conversations without needing to raise their voices to be heard.
Preferring the subtleties of the nuances of sound and emotion enhancing the atmosphere, elevating the ambiance is the true mark of achievement. Providing the perfect environment, where the art of conversations and live music perfectly coexists, is among my specialties, and personal joys.    
Discovering my musical ablilities (a little history)
My relationship with the guitar began when I was 16 years old.
Richard Cassera gave me a ticket to see Al Di Meola, Paco De Lucia, and John McLaughlin at the Tulane McAlister Auditorium. Maybe late seventies, early eighties? It was during that concert that I realized exactly what I wanted to do with my life.
  A week later I heard someone playing guitar in my neighborhood that I had never heard before. I followed the music to a home halfway around the corner that I lived on. I waited for the playing to stop and rang the doorbell.
   The person I accredit my introduction to playing guitar, Charles Guidroz answered the door. He asked, what do you want? My reply was you sound great! I'd give anything to play guitar like you! Charles had just moved into the home he asked, do you play? I replied the thought never crossed my mind, till last week, I saw a concert with three guitarists at Tulane McAlister Auditorium. He said the names of the guitarists and added, if that's what you're listening to, you may have a shot at something. Come back next week, I have a guitar loaned out, if they're not using it, I'll bring it back, and we'll see if you have some aptitude.
I came back a week later, he showed me a couple of barre chords, and the moment I touched the guitar, I was able to play like I played for a hundred years before. It was as natural as breathing air. Even though Charles did not believe I never played guitar, nor did he like I was able to play what took him years to play, we became dear friends. Several months later, Charles left for a college upstate.
That's when I invested in a little luggage dolly, loaded my amp and guitar on it, walked to the streetcar, paid my 35 cents and rode it to the French Quarter and began sitting in with bands. I became the new kid. A famous local born talent Charmain Neville, saw me while sitting in with a Dixieland band, and introduced herself to me.
She asked, "how did you memorize all that music?" I admitted that I didn't memorize anything. Really I have no idea how music works, (still don't) I just kind of, leave myself behind and something out of body happens, that has little to nothing to do with me. Charmaine was the first person to identify me as a musical savant.
Other than sitting in with Dixieland bands at Preservation Hall and various other bands and styles and music clubs throughout the Quarter, it was Charmaine inviting me to sit in with her, that led to my first performance of over a thousand audience members. I never felt more at home, and in my element than on that stage. That was at about seven months of playing guitar.
It's been a hundred percent gift, and I will always remain humble and grateful.
(Though, the toll in sacrifices is beyond daunting, common with many businesses, I genuinely believe I'm fulfilling the good purpose of my lifeforce.)
Charmaine was incredibly generous and will forever hold a very special place in my thoughts and prayers.  Since then, I've had the joy and honor of working with various bands throughout America and Europe, collaborating is a joy and artform unto itself. Speaking of, I am looking forward to introducing some incredibly talented music makers in collaboration. I foresee Charles Biggs being the next. Charles's music reminds me of an ultra-hip Bob James and when I throw in my spice, it reminds me of the Joy that I experienced in my youth listening to Bob James and Earl Klugh.  
The statements after this personal history is also factual. Personally, I find little value in you knowing of the previous industry successes throughout my career.
What matters is your willingness to experience what I offer now, not what I did then. But, in the minute chance this is important, please do read on and know, I'm sharing a small portion of industry related successes. Because I've become a little uncomfortable speaking or writing of it because it feels boastful and the last thing I want or deserve is to be boastful.

The accolades and the yada yada
My performance career span's 35+ years and includes numerous CLIO awards for my original music scores for broadcast commercials.
A small sample of credits, through the years include working with some of the great icons of New Orleans music; Dr. John, Charmaine Neville, Allen Toussaint, various members of the Neville Brothers, Zydeco Joe, Gregory Boyd (leader of the Navy Steel Drum Band), Ritmo Caribeno, Elegant Gipsy and many more. With various projects I was given the joy and honor of being included in the opening acts for world renowned artists, Tito Puente, Peabo Bryson, and George Howard. Working as first call studio guitarist for top recording industry audio/production engineers, Jack Berry and Rick Naiser, brought many of those opportunities to fruition. I am forever grateful.
After a three-year stint in Europe, I arrived on the California Central Coast in 2005. I've scored award winning commercials, documentaries and audio books. And won the highest prestigious award in the music industry (albeit on the local scale) (The Central Coast Grammys) New Times Music Awards 2018 Best Album of the Year! With my release, "Acustico" a double CD featuring 33 Instrumental Compositions. My original music library comprises over a hundred self-published works and is expanding. My music is purchased and enjoyed worldwide, thanks to wonderful people like You! I am so very grateful!
Pre-covid my performances were in high demand. 8+ Years weekly engagements in the Central Coast's finest Resorts, Wineries and Restaurants, before the covid shutdowns, gave witness to the wide appeal, and reliability.
Today (In Summary)
Many of us have had an incredibly difficult time trying to recover what was lost and taken during the pandemic years, and the following aftermath.
I know I have. Loved ones, careers, savings, homes, businesses etc.
In an effort to help rejuvenate our businesses, I will work for whatever your budget can afford. Why? Take a look at my events calendar. If your business was hit as hard as mine then it's obvious, we need to help each other.
You'll get my amassed well-seasoned lifelong professional career of quality standards from dress and decorum, to state of the art audio reinforcement. Including optional battery-operated amplification for an occupancy of up to 150 customers/ guests.
Meaning using very little space, you can place me anywhere, without the worry of tripping hazards of your customers and working personnel.   
A reliable arrival time well in advance of performance time.
My ability to read the room, and tailor make the music uniquely befitting each performance. A skill that I've received innumerable compliments for, by patrons and venue owners alike.
Another Huge Benefit, ASCAP, BMI, SESAC have No claim on any of my music.
This means, Yes! You can have Professional Live Entertainment without the copyright publishing fees. (This is a verifiable legal fact.)
So, if you're among the hundreds of thousands of venues that have been contacted by these publishing companies requiring you to pay fees according to the fire marshal occupancy ordinances, then you understand the value in what I am presenting to you.
Yes! You can afford to attract more revenue by offering your customers professional live music with exceptional quality.
I offer Creative Payment Solutions.
Always happy to work within your budgets.
I own a multi award-winning original music library of over a hundred
Self-Published Works = No ASCAP,BMI,SESAC Fees. (Verifiable Legal Fact)
With my many years of experience and verifiable, reliable work history, I strive to be your 1st choice, to enhance and elevate your business and your customers' experience.
Let's work together sharing the value of professional live entertainment! 
Musically Yours,
Jon Stephen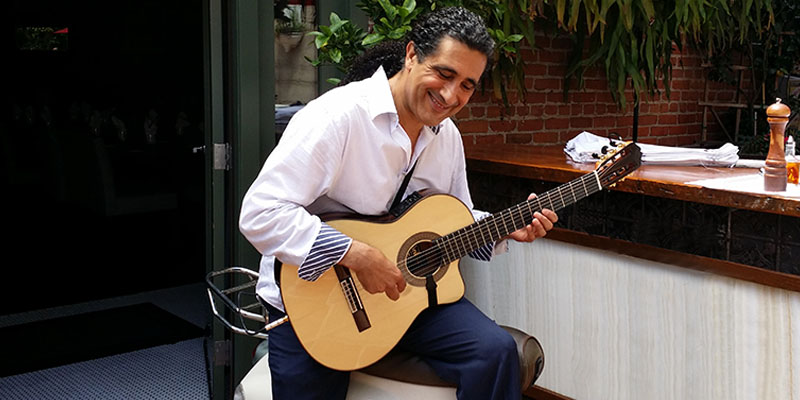 The guitar playing of Jon Stephen is more than the collected notes on a string, but is the musical embodiment of the human soul, constantly transforming each time it is played.
– Joseph Timmons, Music Reviews/Writer/Journalist/indiepulsemail@aol.com
Jon, you are a true Master. Amazing how your music soothes enchants and delights the soul. A glorious time!
Independent – Film Producer, Robin Hanley